April 29, 2009 at 7:59 pm | Posted in
Family
,
Inspiration
|
6 Comments
Jason's sister, Bridget, and her Sean are expecting a new little bundle of joy to arrive sometime in September!  We couldn't be more excited for them and we can't wait to meet the little guy or gal!
So, in honor of them (and because Bridget asked), I'm going to share some of my very favorite nursery themes/ideas/images with all of you.  Yay!
For a boy:
I love this vintage rocket-themed room from Mike and McGee.  No, it's not particularly baby-ish, but the theme would last at least through the little guy's elementary years.
And I love the blue-green nursery created by The Stamford Wife.  I especially love the idea of using cards or pages from children's books as nursery art – it's cute AND super-affordable.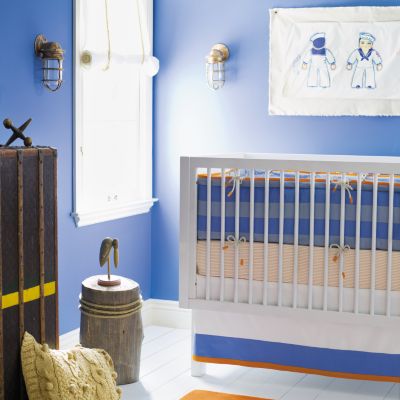 I love the bright and bold colors in this blue and orange nursery from Serena and Lilly.  So cute – and fun!  And, if you're not-so-hot about the orange, you could definitely swap it out for yellow or even green instead.
I also love this adorable animal-themed nursery at Becoming-Home.  It's adorable and nature-y without being too over-the-top.  I mean, check out that adorable monkey hanging from the tree!  Love him!  And, I totally think you could also pull this off if the babe is a boy OR a girl.
For a girl:
I love this pink and brown nursery found at Making it Lovely.  The neutral walls paired with brightly-colored bedding, curtains, and even a pink dresser make for a sophisticated – yet girly – nursery.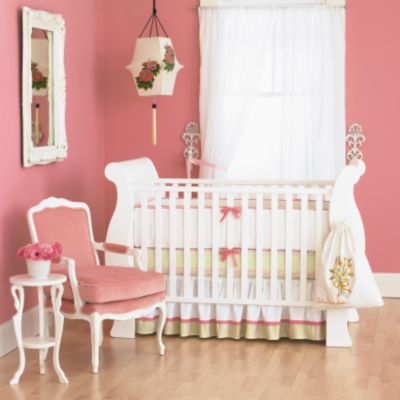 And this princessy-sweetness is seriously adorable.  I love the huge amounts of pink accented with white and just a bit of green.  (From Serena and Lily)
If you're not into pink, how about this sweet blue floral scheme?  I love it's non-pink girly-ness, and I love that the room is paired with a collection of things in varying pastel shades.  (Also from Serena and Lily)
I also love this not-quite-as-pink-but-still-girly room – a subtle blue on the walls paired with pinks, oranges, and yellows for a bright and modern nursery.  If nothing else, the adorable patterned butterflies on the wall are worth copying!  (From RateMySpace)  And, I think you could pull this look off with yellow walls, or green walls, or even pink walls.
Is it me, or are all baby rooms pretty darn adorable?  Between the tiny clothing and the toys, it would be really hard to go wrong.  Also difficult?  Choosing just one theme.
Alright, Bridget (and everyone else), I can't wait to hear what your favorites are…  And I certainly can't wait to find out whether the new one will be a niece or nephew!
Next Page »
Create a free website or blog at WordPress.com.
Entries and comments feeds.